'Soap and Glory' is a brand that has captured the hearts of British girls, and especially Scouse girls, since it first appeared on the shelves in Boots. With its catchy names and cute packaging, it flew off the shelves! I often looked at it but never got round to actually buying it. With having dodgy skin; that at its worst can make me look more scaly than a snake, at the time I didn't think it was a good idea to mess with my tried and tested products; which mainly consisted of greasy creams from the chemist that don't exactly smell fantastic! I smelled like a chippy dinner on a night out! No wonder no fellas came near!
I can still remember the first ever shower gel I bought from Soap and Glory, it was called 'Clean on Me', and it smelled so much better than the typical chemist rubbish! But the best part… my skin was actually fine with it. I never had a reaction, so I did what any girl would do….I bought looooooads!
A bit later, Soap and Glory also released a skincare range for your face. The first item I bought from that range was 'Peaches and Clean'; a deep cleansing clarifying milk, that removes all that nastiness from on and within your pores. It's an amazing cleanser that melts all your dead skin away without having to scrub it hard.
The skin on my face is normal/combination, so I use it as a mask too. I love sticking it on if I'm having a long, hot bath. Just a small amount all over your face for 5 minutes, rinse off and your skin is fab! It's really fab in the morning after you've been on a night out and fell asleep with your makeup on… which I have done… OFTEN! The longstanding spots that I used to get around 'that time of the month', have now disappeared and I honestly do put it down to using this cleanser. It is very rare that I have had spots since using this. I think my husband and teenage son may have been sneaking it behind my back too!
My only concerns for anyone thinking of using Peaches and Clean is if you are known to have really sensitive skin, I wouldn't recommend leaving it on for too long, or to use it every day. Improve your chance of success by using sparingly.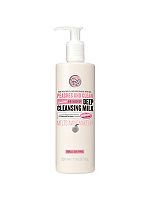 My other facial favourite from Soap and Glory is their 'Face Soap and Clarity Vitamin C Facial Wash'. It's a foamy facial wash that 'smooth's, cleans and purifies'. I know it sounds similar to the Peaches and Clean…. but it's not. This one actually 'brightens' your skin and it's perfect for use first thing of a morning! It has little pink particles that scrub a little but are not harsh. In my opinion, this one is perfect for those with oily/combination skin. I love to use this with my Clarisonic Mia 2; which is a wonderful little sonic scrubbing brush 'for your face'. It really gives your skin a good scrub without making it red or sore (Yey!) If you don't have the Clarisonic, or one of the similar duplicates, then you can simply use a hot flannel to get a similar exfoliating result.
'Soap and Glory' have now launched both of these cleansers in far more cost effective larger bottles and have tagged it under #theBIGclean on Instagram. 'Peaches and Clean' has gone from a 200ml bottle to one that's now 350ml. The 'Face Soap and Clarity Vitamin C Facial Wash' has changed a 200ml 'squeezy' bottle to a 350ml standard bottle to match the rest of the range.
Both are currently on offer at Boots at the moment… for just £6 each, plus don't forget all those lovely Boots Card points!
XOXO