Posted On: 30/10/2015
By: Kate Nesta
This season, suede is everywhere; from the Burberry catwalks to the star studded line up on Balmain's runway at Paris Fashion Week.
The great thing about suede is that it can be incorporated into any outfit; big or small, smart or casual and everything in between. It's simplicity can help add a retro, bohemian feel to any outfit with ease.
To rock the suede trend, there are 5 things you might want to get on board with…
Fringing
Real big in the 70s and making a huge comeback now. Suede fringed waistcoats, bags, dresses, shoes etc, amongst lots of peace, love and LSD, was a hippy essential – a fashion trend that was seen just about everywhere you look. The high street is exactly the same right now (without the drugs). Adding a bit of suede fringing can make you look unique. One warning though – don't overdo it. Combining a suede fringed dress with a fringed coat and a fringed bag and a fringed pair of boots will NOT make you look good. You'll look like you've been on a disastrous date with Edward Scissorhands and a complete and utter mess. Just don't! Know your fringed limits. Less is more.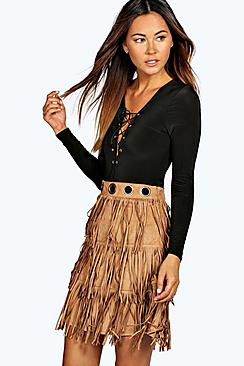 Get the look – This suede fringed skirt is only £20 from Boohoo.
The suede dress
When you think suede dress, the first thought that jumps to mind is something from a Shania Twain video paired with matching suede gloves and knee high boots. Thankfully fashion has moved far away from that kind of head-to-toe ensemble. Now, suede dresses are the simplest thing to work and thankfully don't come with matching gloves and top hats (sorry Shania). From oversized smock-style day dresses to figure-hugging evening wear, there's something for everyone. Topshop are outdoing themselves with their range of suede at the moment. There's military style buttoned casual dresses, strappy fitted evening dresses, lace trim, patterned and fringed dresses. If you want to adopt the suede dress, Topshop is a good place to start.
Get the look – there's nothing country music about this figure hugging beauty from Rare @ Topshop £39
Coloured suede
The neutral tones of suede are the most common at the minute – the browns, beiges, tans and creams. Whilst they're all absolutely stunning, never be afraid to go bold. A brightly coloured suede bag or bold and daring coloured 2-piece can be the ticket to a stand out look. To opt for a coloured suede piece is definitely a little quirky but if you do it right, it can look amazing. Zara is the queen of the co-ord at the moment with masses of suede skirt and jacket combos. If you're a fan of the 90s trend that's been dominating our wardrobes over the past 12 months, and want to incorporate a bit of suede, you'll love these!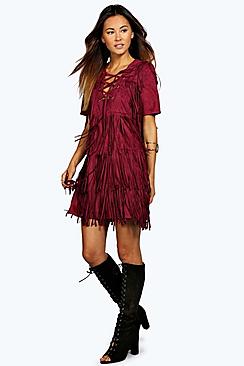 Get the look – the deep berry tones of this suede dress from Boohoo are perfect for the Autumn/Winter vibes & only £35
Staple suede skirts
To pick out something as simple as a skirt and claim it's a staple part of the suede trend sounds a bit stupid. It's like going to the champagne bar in Harvey Nichols and raving about the Pepsi. However, the suede skirts on the high street at the moment are to die for! Whether you're looking for workwear, casual or evening attire, you will without doubt find it! From midi to mini, culottes, buttoned, fringe, leather panelled and so, so, so on! There's so many colours and shapes. It's hard not to jump on this trend when there's so much choice. Make the suede skirt your wardrobe staple!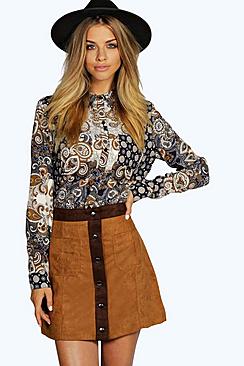 Get the look – This 70's style skirt, only £20 from Boohoo is TO DIE FOR 
Suede and fur
Last but not least is the fur and suede combo. With extravagant fur collared trench coats, lavish fur/suede gilets and fur trim on just about every suede accessory and shoe you can get your hands on – fur is everywhere ! It goes hand in hand with suede and really channels the 70s vibe. It's another part of this trend that's everywhere you look on the high street. Get on board with the fur and suede and channel your inner 70s chic!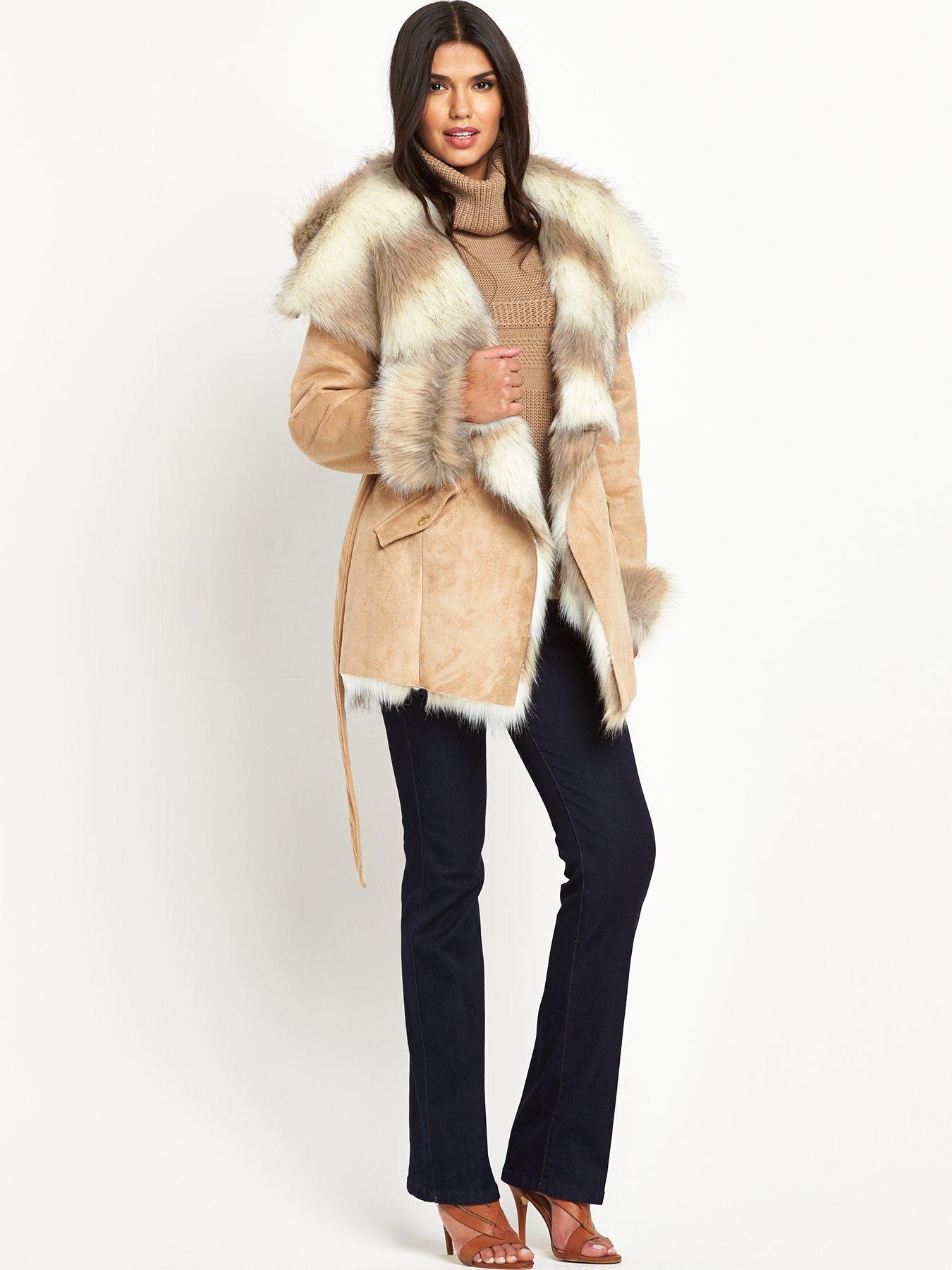 Get the look – DAAAAAAAYYYUMMM that's a good coat. Lipsy at Very have knocked it out the park with this one. £125.
XOXO
Follow Kate on Instagram
Hey birds and boys, just leave me your contact details and you won't miss a single article I post XOXO