It's always an honour when musicals that've had great success on Broadway and the West End make their way to Liverpool. Boasting a record breaking 12 Tony Awards and 3 Oliviers, "The Producers" has brought with it, high expectations. 
On the surface, it has everything you could ever want from a musical, from sparkling costumes and sequins, to comedy and big show tunes with an all-star cast, but there is definitely something lacking.
The story is based around New York producer Max Bialystock, who recruits timid accountant Leo Bloom in an attempt to pull off Broadway's greatest scam. They aim to produce the worst show ever and run away with millions, but they quickly learn that the world of showbusiness may not be as straight forward as it seems.
It's a show within a show, with act one being a build up to a performance of "Springtime for Hitler." The duo find the worst play, the worst directors and the worst actors in an attempt scam the box office and jet off to Rio with their earnings, however, they actually end up producing a show that receives great reviews from the critics. Hitler is completely camped up and we see him baton twirling, whilst wearing a gold sequined jacket, leather shorts and knee high white socks.
Starring stand up comedian Jason Manford, who gives a surprisingly credible performance and definitely proves himself as a musical theatre star; in other words, the man can sing. Credit must also be given to Cory English and Ross Noble who excellently portray the characters of Franz Liebkind and Max Bialystock. At one point, Ross Noble owned a heckler, using his quick wit to add to the humour without breaking character.
The audience, who were mainly 50 plus, found the gags hilarious; the play poked fun at everything from accountants, to gays, old ladies, Swedish people and more.  For me, the humour failed to be on par with other award winning musicals with the gags being very cliché. Comedy included a cast member genuinely "breaking their leg" before the start of the play and two flamboyant gays being told to "hide in the closet" which lead to a rapturous applause and belly laughs from the audience.
The Producers definitely proved how humour is subjective; a couple of people left during the interval having had enough but at the opposite end of the scale there was an immediate standing ovation from the remaining audience as soon as the cast finished their final scene, perhaps it is one to make your own mind up on…
In summary, it was ok, if you like that kind of thing.
The Producers is playing until Saturday at the Liverpool Empire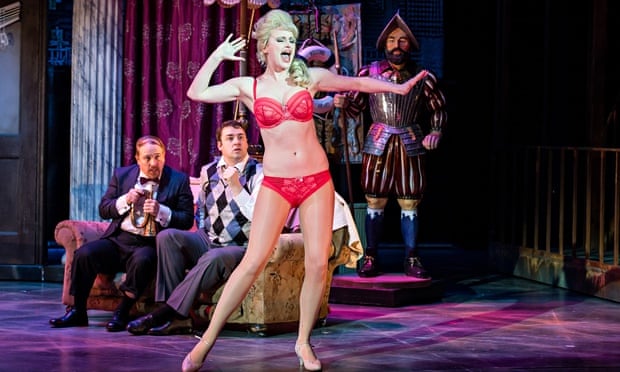 XOXO