Unless you work in a bar, a clothes shop, or somewhere über creative that is big on beanbags, breakfast yoga and office pets, you might have experienced the timeless struggle of reading between the lines of your workplace's dress code in summer months and, crucially, getting it right.
As much as we'd love to drape leopard print beach towels over our swivel chairs and loll around in swimwear or tropical co-ords, the truth is that how you present yourself at work can have an affect on your career success.
Meanwhile, our male counterparts are stuck in suits and shirts so perhaps striving for equality sometimes means living the sweaty life along with them and showing that we can handle our biz when the mercury rises.
Sadly it's not always the men who have something to say about how we dress at work, our female colleagues and bosses have their own opinions on our work wardrobes and (even subconsciously) this can make or break our progression.
If your workplace doesn't have a written policy on dress, then follow these guidelines to keep it professional:
Generally speaking beachwear is not considered appropriate, so ditch the flip flops and sarongs, and anything so sheer that you can see your underwear.
Any footwear with thongs in between your toes and backless shoes are a no-no; go for two-part shoes or smart sandals in leather instead.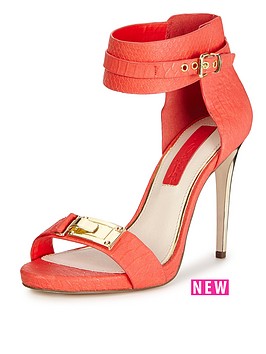 These smart sandals are bright, summery and of course work friendly. £50 from Miss Selfridge at Very
Maxi dresses are for yummy mummies at family barbecues. Wear them to work and you'll look like you're ready to clean everyone's faces with a baby wipe.
In fact, swerve anything floaty. It'll only get caught in the lift doors/shredder/your chair wheels. You and endless folds of floral material being eaten alive in your own version of Final Destination won't secure you that promotion, girl.
On your top half, avoid bandeau/backless/cut-out/off the shoulder tops and very plunging necklines. If that sounds like 99% of your wardrobe then you could possibly stretch to a vest top but the thinner the straps the greater the risk.
More professional alternatives would be cotton or linen shirts, sleeveless blouses, or short sleeve shell tops.
On the bottom, go for tailored wide-leg or peg trousers, pencil skirts for the mad men look or a pleated midi (for a bit of a breeze), or even culottes if you feel you can pull them off.
The perfect midi skirt for work – £45 Miss Selfridge at Very. Team with black shell top and smart sandals. 
Keep fabrics breathable and natural: cotton, linen, silk are all fab. Avoid viscose, polyester and anything man-made. Try wearing nylon in close quarters on a warm day and quite frankly you're playing Thrush Roulette.
Don't even think about hotpants.
Other than that, you're on your own. Invest in a USB desk fan for around a fiver, a fab brumisateur (facial water spray) and go to the kitchenette and stick your tits in the fridge for five minutes.
Above all else, show them you're a badass bitch who means business and can boss a heatwave, not a Dolly Daydream whose mind is on Margaritas and Marbs (even if it is).
XOXO