The main thing on everyone's news feed right now is a global pandemic, from crowded supermarkets to self-isolation, the world has ever so slightly gone into panic mode.  Susan and Barry the stockpilers might be sorted, eating pasta with a bog roll crumb top for the next few weeks, but if we're being honest most of us are trying to figure out what we're supposed to do with ourselves if we have to go into lockdown. Sure, binge-watching that new series everyone's been talking about is a great way to pass time, but it's not going to do the job for very long. 
So we've compiled a list of all the things you could do to keep yourself occupied during a lockdown.
Spring Clean
Not only is it that time of year again, but now more than ever you're going to want a clean house and a tidy mind. The best way to combat those germs is to clean, clean and clean some more. If you can't leave the house and trying to get a delivery slot for your local supermarket is proving impossible, why not support your local businesses? 
Our Spanish cleaning range is a lot more concentrated than most high street cleaners, so not only do you get a scent that lasts for absolute days, you know you're getting value for your money with a product that lasts twice as long and does the job twice as good. Shop it here.
Who can honestly say they've had time to read a book lately? Between school, work, being a mum or dad and a general busy bee, our time is so precious these days we never give ourselves the chance to just sit down and read a good book. Why not take the time out to pick up one of the books you've had lying around the house for years but never even got past the cover. Stick the kettle on, brew up a nice little cup of Scouse Bird coffee (shameless plug, buy it here) and just relax. Give yourself time to fall back in love with reading again. Trust me, it'll be worth it. Here's some reading recommendations from me, including some law of attraction stuff.
Organise Your Underwear Drawer
One advantage of being on lockdown is knowing you don't have to get dressed, you can stick on a pair of leggings and a baggy jumper and call it a day. So use this time to organise your underwear drawer. Those tights you've had since 1984… I know it was acceptable in the 80's but it's 2020 babe, bin them off. The baggy knickers, the odd socks… let it go, the other odd sock is never coming home. It won't… trust me, they're in their happy place with all your hair clips, bobbles, and Tupperware lids. They're having a grand old time. Leave them be, it's time to move on. And if you wanna get really organised, there are still Scouse Bird diaries left online and they're available from £1.
Skincare routine
As hard as it is to believe, we're only in March so you've still got plenty of time to organise all those Christmas bath sets. Organise your skincare products and get yourself into a good, healthy skincare routine. It's the perfect time to give your skin a break from all its daily struggles like makeup, pollution, and chemicals. Maybe now that you can't just grab a handy packet of makeup wipes off the shelf you can start to see the benefits of using reusable makeup wipes. Not only are they softer on your skin, but they also drag less, they don't irritate your skin, you can use your favourite makeup remover, you'll be giving your face the care it deserves and you won't be clogging your pores with harmful chemicals. Here's a link to the gorgeous 12 pack of re-usable wipes we have in store, the beauty of them is they just go straight back into the wash bag and into the washing machine. No hassle or fuss. Easy-peasy. 
Money's tight right now, we can all relate. Sometimes you can make the best of a bad situation by seeing what you have lying around (obviously don't be one of those people flogging 4 toilet rolls on Facebook Marketplace for £50). But a good eBay clearout is a great way to clear your house, mind and replenish your bank account. 
Check out my blog on how to make money on eBay.
Colouring In
We all know about the relaxation and therapeutic benefits of colouring in and I know you're all feeling a little bit pissed off at the lack of outside scenery you're getting right now. So why not have a little look at our large Liverpool colouring maps, not only are you getting to pass the time with a bit of colouring, it's big enough to see the sites with the whole family without having to leave your living room. You can LITERALLY paint the town red. 
Drink Gin
These are trying times for all involved and a bit of self isolation is probably making you want to scream the house down. But if we're being honest, this is like Christmas again, we're all at home, we don't know what day it is, are the buses running? Is it Sunday hours in the shops? Is the Queen going to be giving a speech? Are we going to put a tree up in our living room just to feel like we're actually outside? So you may as well have a little (or huge) Gin to tide you over. Have a look at our amazing gin range here (over 18's only, don't be sneaky). 
Exercise
 I know at least 60% of you just did an exhale laugh at that and I'm sorry but it's time like these we can't make excuses. The gym isn't too far away, it's your living room, you don't need petrol in the car, you can't blame it on the mince pies and it's probably been Monday twice by now. Go upstairs and throw on that adorable gym set you've been dying to wear for months, pull up youtube and stick on a workout video. You'll feel so much better for it. Trust me. 
Decorate
You bought the paint before Christmas and it's been gathering dust ever since. Social and work responsibilities have a habit of taking over every part of our life and sometimes home is just somewhere you sleep at the end of the day. Use this time to turn your home into a safe haven, your comfort zone. Somewhere you feel proud of. Let your imagination take over and bring your dream decor to life. Why not get one of our incredible candles to add the finishing touch to your newly decorated home?
Get Organised
It's been a bit of a funny one this year. We all know we should've had our diaries organised and our lives in check but with all of the drama going on it's been really difficult to sit down and organise your life. Use this time to update your diaries and calendars. If you haven't got a 2020 or Academic diary yet, get yours here. They've got everything you need to organise your life. They're also selling out super fast so make sure you get your hands on one asap.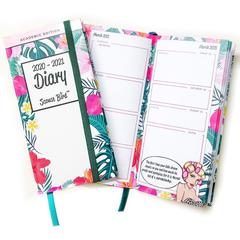 So there you go, things to keep yourselves occupied during a lockdown. Remember to keep calm and carry on the British way, stop fighting over loo roll, look out for each other and let's all ride this out together.