Holidays are an expensive business. You might have had your heart set on a fortnight in Marbs, then crunched some numbers and before long your dream vacation turned into a week in Maga, then eventually a weekend in Minehead…
Whatever your budget, one thing's for sure: you don't need to wait for hours in a departure lounge or cry over your luggage allowance to start your Staycation.
The clue's in the name, divvy! But fair enough, there's a bit more to it than spending all your time off watching Netflix in your PJs like m̶y̶ your ordinary weekends.
There's an art to Staycationing. To get the most out of your holiday at home, follow my golden rules:
No work related emails, no paying bills, no boring household chores. You're on holiday, so get all the tedious stuff out of the way before you start your Staycation. You could even challenge yourself to switch your phone off…. No? OK, maybe not!
Is Monday night normally spag bol night and Wednesday's usually jacket spuds? You wouldn't do that on a 'proper' hols, so mix it up a bit for your Staycation. Go to a new restaurant, have a barbecue or picnic, try food you've never tasted before.
Wear your holiday clothes.
Yeah maybe your gold Kimmy K inspired two piece won't translate so well on a wet Wednesday in Warrington but you can still rock that flower garland headband and palm print playsuit. Whatever you do, don't even THINK about wearing those Black Work Trousers during your Staycation!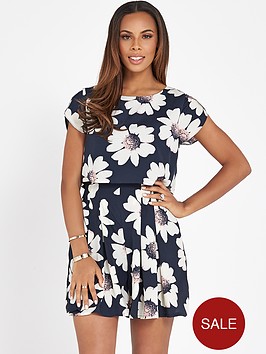 Floral playsuit £22.50 from Very
Tourism isn't just for tourists! Check out your local museum, go on an open-top bus tour, visit a castle or find out what festivals and markets are on where you live and make the most of them.
Couldn't make it to Mexico this summer? Stop whinging and get down the Asda for the ingredients for fajitas and tacos and lash a mariachi playlist on Spotify. Fill a piñata with miniature bottles of tequila and stick-on moustaches for you and your mates.
Got a bad case of FOMO over missing the Ibiza pool parties? Get your hands on the biggest paddling pool you can find, download some Balearic beats and you can be transported from Skelmersdale to San Antonio in the time it takes to rip the tags off your new bikini.
So what are you waiting for? Now you know the art of Staycationing, you'll be choosing the best filter on Instagram for your amazing selfies before your mates have even checked in at the airport.
XOXO